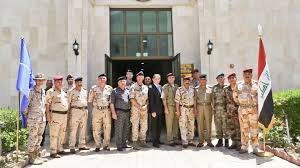 BAGHDAD — NATO has begun moving troops out of Baghdad's Green Zone to other locations in Iraq and the broader region, citing a need to keep their personnel safe.
"In everything that we do, the safety of our personnel is paramount," a NATO official said, speaking on condition of anonymity in line with organizational protocol " We have temporarily suspended our training on the ground, and we are taking all precautions necessary to protect our people. This includes the temporary repositioning of some personnel to different locations both inside and outside of Iraq."
Military officials reported that the drawdown had already started, with helicopters evacuating a first wave of personnel overnight.
The NATO mission in Iraq is focused on training Iraqi security forces fighting remnants of the Islamic State. Experts warn that the fallout from Soleimani's death will imperil the fight against the jihadists just as they try to regroup.
"We are prepared to continue our training and capacity-building when the situation permits," the NATO official said.