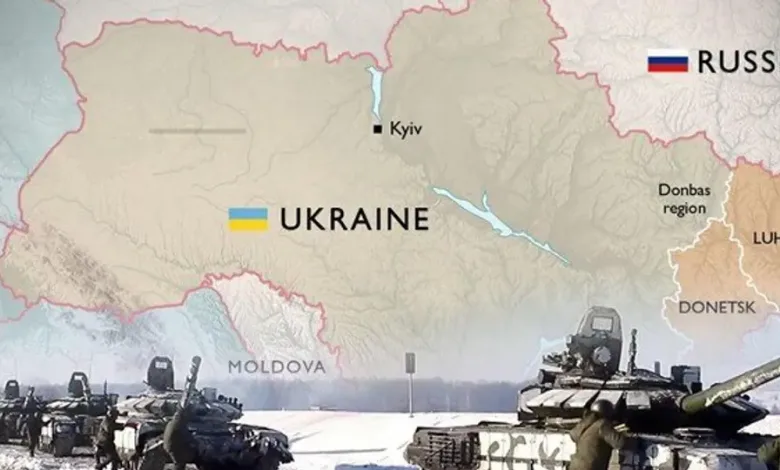 Iran's state television, operating under the control of Supreme Leader Ali Khamenei, has been supporting Russia's invasion of Ukraine during the past two days.
With a government appropriation of $200 million a year and huge advertising income, the coverage of the state TV was so blatant that according to former lawmaker Ali Motahari it is as if Iran is a Russian colony.
Meanwhile, as President Ebrahim Raisi rushed to express support for Russia, observers on social media said the sheer fact that he called Vladimir Putin in this situation, puts the Islamic Republic in an embarrassing situation.
Later Friday, Iran's security Chief Ali Shamkhani also supported Russia's military move into Ukraine. The state TV, Raisi and Shamkhani portrayed Russia's aggression as an attempt to defend itself against advances by NATO, fully endorsing Russia's claims.
Possibly as a concerted attempt, nearly all the Friday Prayer Imams in various Iranian provinces trumpeted the idea of Russia defending itself against NATO in their sermons, Mehr news agency reported.
Asr Iran website in Tehran wrote on Friday that Iranian conservatives have been cheerfully welcoming Russia's attack on Ukraine. The website quoted some conservatives as saying that the United States has left Ukraine alone in the face of invasion and other countries should not count on US support.
The website noted that the state TV does not use the words "attack" or "invasion" about Russia's move and constantly talks about Russia's "special operation." According to the website, the state TV praises Putin for his "authoritarian rule" as an element that reinforces likeminded people in Iran in their confrontation with the supporters of Western liberalism.
Meanwhile, commentators on state TV keep saying that as the United States is busy with the Ukraine crisis, it can no longer exert pressure on Iran in the nuclear negotiations. At the same time, as Russia's move brings on a series of European and US sanctions against Russia, this gives Iranian hardliners a good feeling that there are not alone in their isolation.
The website also added that it would have been difficult for Iran to defend Russia had it attacked a Muslim country such as Afghanistan or Azerbaijan, but Iranian leaders believe that no one in the country expects them to defend the people of Ukraine.
However, Iran has turned a blind eye to persecution of Muslims in China and elsewhere.
Iranian leaders' also think that the invasion of Ukraine will portray Russia as a more powerful ally for the Islamic Republic, although technically, Russia is not Iran's strategic ally. Russia has never stopped any of the UN sanctions and resolutions against Iran in the past 15 years.
Nonetheless, the paradoxical point is that Iran officially opposes all forms of separatism. Supporting the separatists in Ukraine could be embarrassing for Supreme Leader Ali Khamenei and therefore, this is a point the state TV tries to ignore in its reporting.
Conservative commentator Jalal Khoshchehreh warned the Iranian government that Russia's actions in Ukraine and Iran's support for it will promote separatism in the rest of the world.
Khoshchehreh suggested that Iran should defend Ukraine's territorial integrity. He was probably pointing to the fact that there are several ethnic and linguistic groups all around Iran with some people among them having separatist tendencies. Stressing that Russia's invasion of Ukraine will empower radical nationalists everywhere, he asked: "Are other countries entitled to deploy forces to a foreign country to support their separatists?"