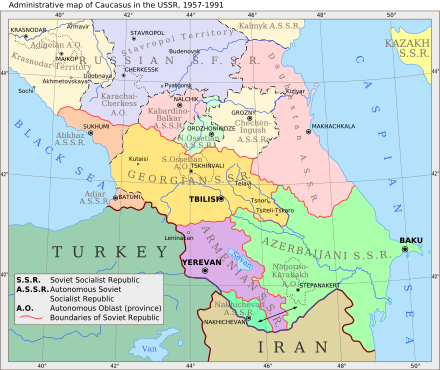 Caucasus. The Ukrainian conflict has paradoxically raised the likelihood of both further fighting and a negotiated peace in this area between the Caspian and Black Seas. The region was the site of a brutal war in 2020 between Armenia and Azerbaijan over the disputed territory of Nagorno-Karabakh—an Armenian-populated enclave within Azerbaijan—and adjacent regions. The 44-day war left around 7,000 people dead and saw Azerbaijan inflict a crushing defeat on Armenia, reversing territorial losses it had suffered in fighting during the 1990s. The war also left unresolved questions, lingering disputes, and simmering tensions. In March, just as Ukraine used Turkish-made Bayraktar drones to repulse Russian forces, Azerbaijan used the same type of drones to strike Armenian troops in Karabakh.
Now that Russia is bogged down by its war in Ukraine, Russia's centrality to any settlement of this conflict—in what it sees as its own backyard—is in doubt. Peace talks are underway between Armenia and Azerbaijan under the auspices of the European Union. In May, Armenian Prime Minister Nikol Pashinyan and Azerbaijani President Ilham Aliyev met in Brussels for what European Council President Charles Michel described as "productive" talks. The parties are making progress on two major issues: the reopening of transport routes across closed borders and the demarcation of the official border between Armenia and Azerbaijan. On a third, the future status of the Armenian population of Karabakh, the core issue of the conflict since 1988, intense wrangling continues even on the terms of debate.
The shadow of the war in Ukraine hangs heavy over these negotiations. The Kremlin helped forge a cease-fire deal in November 2020 under which it deployed a peacekeeping force to Karabakh. Russia is the closest military and economic ally of Armenia and also signed a partnership agreement with Azerbaijan two days before the invasion of Ukraine, declaring friendship and promising deeper economic cooperation. Now, however, its setbacks in Ukraine have limited Russia's capacity to project power in its neighborhood. Its military and diplomatic chiefs are distracted, and local powers can more easily ignore its instructions and threats. These limitations may help explain both why there has been an upsurge in violence in and around Karabakh and why the EU has supplanted Russia as the major mediator between the two sides. The diminished Russian role has caused instability, but it also gives Armenia and Azerbaijan an opportunity, if they wish to seize it, to work toward a definitive and historic peace settlement.